What is gynecomastia?
---
Gynecomastia (guy-nuh-koh-MAS-tee-uh) is a medical term to describe the condition of overdevelopment or enlargement of the breast tissue in men or boys, generally caused by an imbalance of the hormones estrogen and testosterone. The breasts become larger. It can affect one or both breasts, they may grow unevenly.
Gynecomastia generally occurs when a preteen or teenage boy is going through the hormonal changes of puberty. But it can also happen to newborn babies and to men as they age, though rarely.
Though it cannot be said as a disease which can affect you physically in present or future, it surely can affect you mentally and socially. Decrease in self-confidence is the number one reason for clients to seek treatment for gynecomastia. Because breasts are enlarged and usually unevenly, it is hard for clients to wear t-shirts during summer seasons, or go topless, or for a swim, or any activities during summer seasons.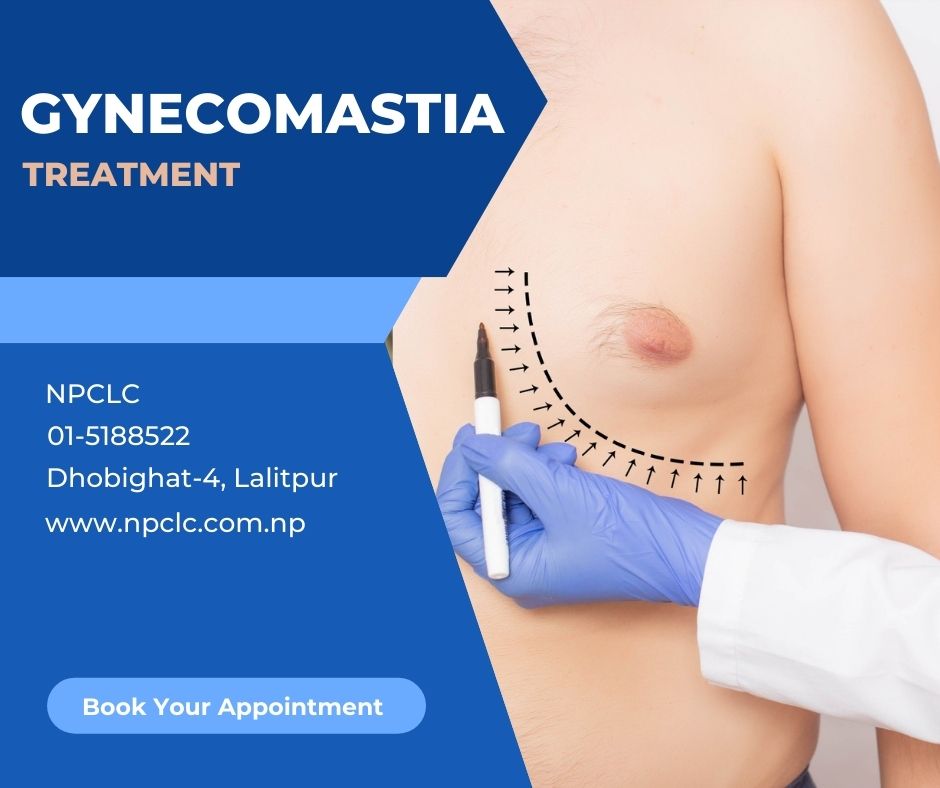 What causes gynecomastia?
Gynecomastia is usually a benign (noncancerous) condition. It may be caused by different hormonal changes. In most cases, the cause isn't known.
Most commonly Gynecomastia is caused by changes in levels of the female hormone (estrogen) and the male hormone (testosterone). But there is a chance, that it is caused by other things as well.
Gynecomastia can be caused by a side effect of certain medicines, such as antidepressants, chemotherapy, antibiotics, prostate cancer medicines, ulcer or cardiovascular medicines. Illegal drugs, such as anabolic steroids, heroin, or marijuana can also cause gynecomastia.
Some diseases and medical conditions may also cause gynecomastia. These include:
· Kidney disease
· Liver diseases
· Testicular cancer
· Lung cancer
· Tumors of the adrenal glands or pituitary gland
· Some conditions that a baby is born with (congenital disorders)
· Thyroid disorders
· Injury or trauma
· Obesity
Newborn babies may have a short-term form of gynecomastia. This is often because a mother's estrogen stays in a baby's blood for a while after birth.
What are the symptoms of gynecomastia?
You may have gynecomastia in one or both breasts. It can start as a lump or fatty tissue beneath the nipple, which may or may not be sore. The breasts often get larger unevenly.
The symptoms of gynecomastia might look like other medical conditions or problems. Always see your certified and qualified plastic surgeon for a diagnosis and appropriate treatment.
How is gynecomastia diagnosed?
Your provider will take your past health and medicine history and give you a physical exam.
To rule out other diseases or conditions, depending on your familial and past history,you may also have tests including:
· Blood tests, including liver function tests and hormone studies
· Urine tests
· A low-dose X-ray of your breast (mammogram)
· A small breast tissue sample (a biopsy) may be removed and checked for cancer cells
 In most of the cases, tests are not needed to diagnose the condition.
How is gynecomastia treated?
Your Plastic surgeon will figure out the best mode of treatment for you based on:
· Your age.
· Your overall health and past health history.
· How well you handle certain medicines, treatments, or therapies.
· How long the condition is expected to last.
· Your opinion and preference.
Most cases of gynecomastia happen during puberty. The condition usually gets better on its own without treatment. This may take from 6 months to 2 or 3 years. After the 3 years mark it seldom resolves by itself.
If a medicine is causing your breast enlargement, you may need to stop taking the medicine or change the medication after consulting the appropriate doctors. That can solve the problem. If a disease is causing the condition, the disease will need to be treated.
Hormone therapy may be used to treat gynecomastia, though it is very long, difficult and expensive procedure.
In most cases, Liposuction and gland excision may be chosen to remove the excess fat tissues and glands. In rare cases radical excision surgery may be used to remove the extra tissue.
Key points about gynecomastia
· Gynecomastia is an overdevelopment or enlargement of the breast tissue in men or boys.
· The breasts become larger. They often grow unevenly.
· It is often caused by changes in levels of the female hormone (estrogen) and the male hormone (testosterone). Other things may cause it as well.
· Most cases happen when a preteen or teenage boy is going through puberty. But it can also happen to newborn babies and older men.
· It often goes away on its own. In some cases, hormone therapy is needed. Surgery may also help treat the condition.
Where to get your gynecomastia checked and treated.
 It is always important to have your checkup with qualified and certified plastic surgeons.
There is always a huge misconception of all doctors can treat or perform surgeries of all type, but it is always a good point to choose the doctors who have special qualifications for the disease you are suffering for.
For Gynecomastia it is of utmost important to choose a certified Plastic surgeon who have experience in treating gynecomastia.
In Kathmandu, Nepal there are only a handful of places where they have qualified plastic surgeon, who frequently perform gynecomastia checkup and treatments. To name a few there is Nepal Plastic Cosmetic and Laser Center, Located at dhobighat, Lalitpur, 01-5188522. Annapurna Neuro Hospital, KTM skin care hospital.
Form the research we have performed among these places Nepal Plastic Cosmetic and Laser Center under the Senior Consultant Plastic and cosmetic surgeon, Dr. Surendra Basnet and his team performs most amount of cases with good results. After in detail talk with them we can verify that Nepal Plastic Cosmetic and Laser Center is one of the best clinic for treatment of gynecomastia in Kathmandu.