vascular malformation correction|birth mark removal|stretch mark removal
---
Vascular malformation which are acquired at birth is a defect of vascular vessels. Vascular malformation patients always have a problem socially, the appearance and the way the society looks or perceives them is different.
We at NPCLC have the laser therapy to remove the vascular malformation and make it look like it was never there to bother you.
Birth marks s present at time of birth. It is a visible, circumscribed, chronic lesion of skin or mucosa. It is generally found in all human races. Although it is found in almost everyone the site and size of  birthmark varies and hampers the aesthetic of a person.
We at NPCLC have a special laser " ELIGHT" which can remove the birth mark non surgical method, in this therapy there is no pain involved and no scarring after the therapy is over.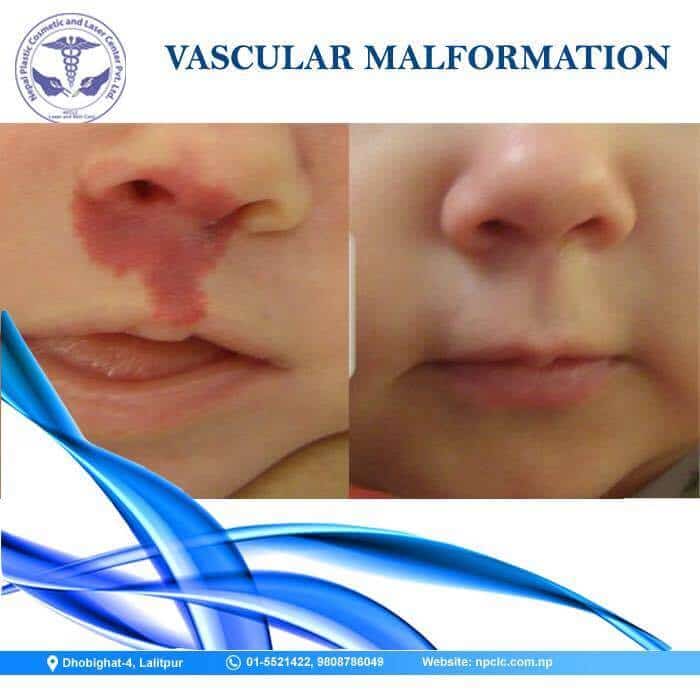 Similarly we also have the laser to remove the stretch marks. This procedure is pain free and has no downtime.
We at NPCLC not only provide all these procedure under one roof and performed by highly specialised plastic and cosmetic surgeon in Nepal, but none of the other facility can beat us on the cost of removing stretch marks, birth marks, vascular malformation and scar removal in Kathmandu.
All these types of procedures must be properly evaluated and surgical treatment should only be done by registered plastic and cosmetic surgeon for the best possible outcome. We at Nepal Plastic Cosmetic and Laser Center ( NPCLC) provide the best counselling and surgical as well as non surgical treatment. We have the largest and best registered and qualified plastic and cosmetic surgeon of Nepal as well as multiple super speciality doctors and surgeons.
Our motto is Make Life Beautiful.