Rhinoplasty ( Nose Surgery|Correction) In Kathmandu Nepal
---
Rhinoplasty
Rhinoplasty (Augmentation / Reduction)                            
alar reduction
Rhinoplasty also known as "nose job" or "nose reshaping" enhances facial harmony and the proportion of your nose. It can also be done to correct impaired breathing caused by structural defects in the nose. In some patients who wants to raise the profile of their nose a silicon implant might be needed. Rhinoplasty is a surgical procedure to correct the shape, size and function of nose. There are many sub-type of procedure inside a nose job.
Rhinoplasty Augmentation in which a silicon implant is added to make your nose look more symmetrical, bigger and longer.This is mostly done for people who has low nasal root especially in Mongolian races.
Rhinoplasty Reduction also known as hump reduction in which a hump or entire length of nose is reduced including bones so that it looks natural and in symmetrical looking without and humps.It also makes your nose look smoother.This procedure is usually done for Aryan races.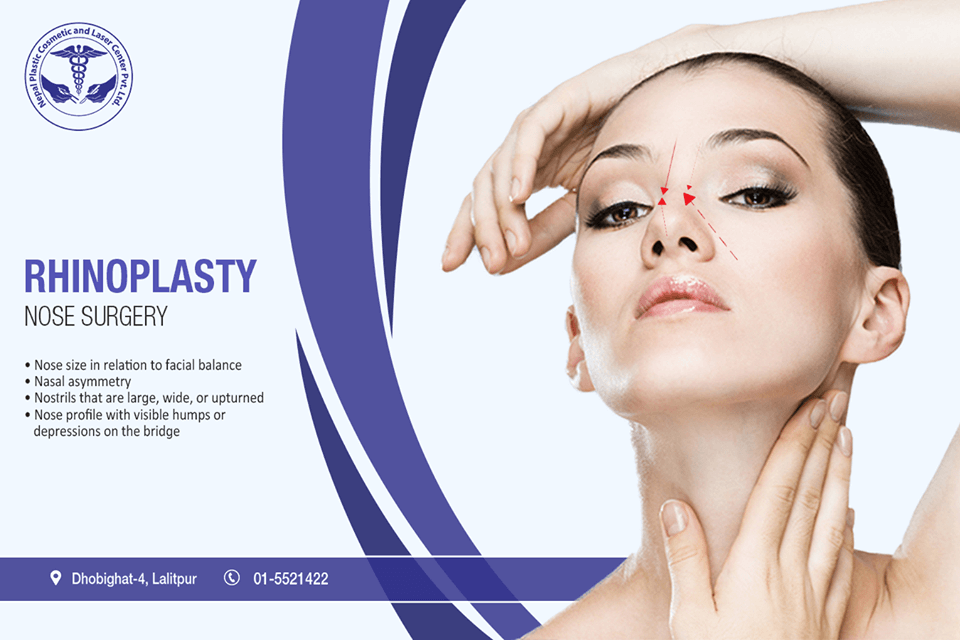 Alar Reduction or commonly known as nostril reduction is done to a patient who have flaring of nostrils and/or wide nose base. By doing this procedure the nostril becomes smaller looking which in turn make your nose appearance big and sturdy.
Nasal Tip Correction or also known as refine or projection of nasal tip. In this procedure we make the nasal tip more protruded via augmentation with implant or cartilage grafts.
What can Rhinoplasty treat ?
Nose size in relation to facial balance
Nose width at the bridge or in the size and position of the nostrils
Nose profile with visible humps or depressions on the bridge
Nasal tip that is enlarged or bulbous, drooping, upturned or hooked
Nostrils that are large, wide or upturned
Nasal asymmetry
Correction of deviated septum.
Who are good candidates for Rhinoplasty ?
You maybe good candidate for Rhinoplasty if :
Your facial growth is complete
You are physically healthy
You don't smoke
You have a positive outlook and realistic goals in mind for the improvement of your appearance
You are from Mongolian descendant and have blunt nose.
What are the risks of Rhinoplasty ?
Rhinoplasty surgery risks include:
Anesthesia risks
Infection
Poor wound healing or scarring
Change in skin sensation (numbness or pain)
Nasal septal perforation (a hole in the nasal septum) is rare. Additional surgical treatment   may be necessary to repair the septum but it may be impossible to correct this   complication
Difficulty breathing
Unsatisfactory nasal appearance
Skin discoloration and swelling
Possibility of revision surgery
Implant displacement.
Implant infection.
Implant removal maybe necessary.
How to prepare for Rhinoplasty surgery ?
For Rhinoplasty Surgery you might need to :
Get a lab test
Take certain medications or adjust your current medications
Stop smoking
Avoid taking aspirin, anti-inflammatory drugs and herbal supplements as they can   increase bleeding
In all above mentioned surgical procedures incision should be made through the inside of the nose so that the post surgical scar should be minimal and well hidden. We provide all these procedure in very competitive price in NPCLC, Kathmandu, Nepal.
All these types of procedures must be properly evaluated and surgical treatment should only be done by registered plastic and cosmetic surgeon for the best possible outcome. We at Nepal Plastic Cosmetic and Laser Center ( NPCLC) provide the best counselling and surgical as well as non surgical treatment. We have the largest and best registered and qualified plastic and cosmetic surgeon of Nepal as well as multiple super speciality doctors and surgeons.

Our motto is Make Life Beautiful.