Rhinoplasty ( Nose Surgery|Correction) In Nepal
---
Rhinoplasty
Rhinoplasty (Augmentation / Reduction)                            
alar reduction
Rhinoplasty commonly known as nose job is a surgical procedure to correct the shape, size an
d function of nose. There are many sub-type of procedure inside a nose job.
Rhinoplasty Augmentation in which a silicon implant is added to make your nose look more symmetrical, bigger and longer.This is mostly done for people who has low nasal root especially in Mongolian races.
Rhinoplasty Reduction also known as hump reduction in which a hump or entire length of nose is reduced including bones so that it looks natural and in symmetrical looking without and humps.It also makes your nose look smoother.This procedure is usually done for Aryan races.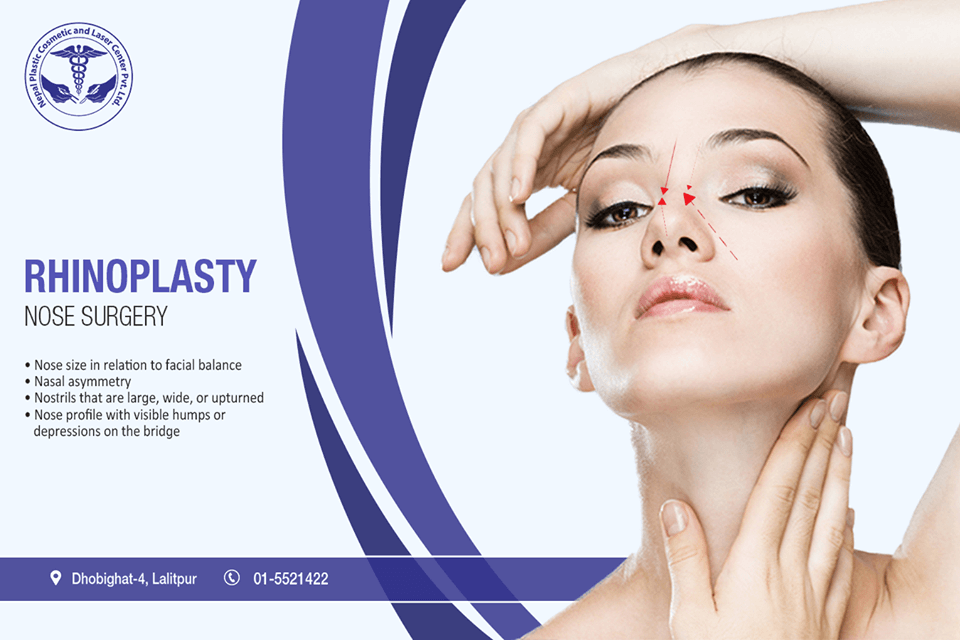 Alar Reduction or commonly known as nostril reduction is done to a patient who have flaring of nostrils and/or wide nose base. By doing this procedure the nostril becomes smaller looking which in turn make your nose appearance big and sturdy.
Nasal Tip Correction or also known as refine or projection of nasal tip. In this procedure we make the nasal tip more protruded via augmentation with implant or cartilage grafts.
In all above mentioned surgical procedures incision should be made through the inside of the nose so that the post surgical scar should be minimal and well hidden. We provide all these procedure in very competitive price in NPCLC, Kathmandu, Nepal.
All these types of procedures must be properly evaluated and surgical treatment should only be done by registered plastic and cosmetic surgeon for the best possible outcome. We at Nepal Plastic Cosmetic and Laser Center ( NPCLC) provide the best counselling and surgical as well as non surgical treatment. We have the largest and best registered and qualified plastic and cosmetic surgeon of Nepal as well as multiple super speciality doctors and surgeons.

Our motto is Make Life Beautiful.