Hymenoplasty: ( Hymen repair surgery) In Nepal
---
Hymenoplasty, also known as hymen repair surgery, is a procedure that involves repairing or reconstructing the hymen, a thin membrane located at the opening of the vagina. The hymen can be damaged or torn due to various reasons, including sexual activity, childbirth, and physical activity.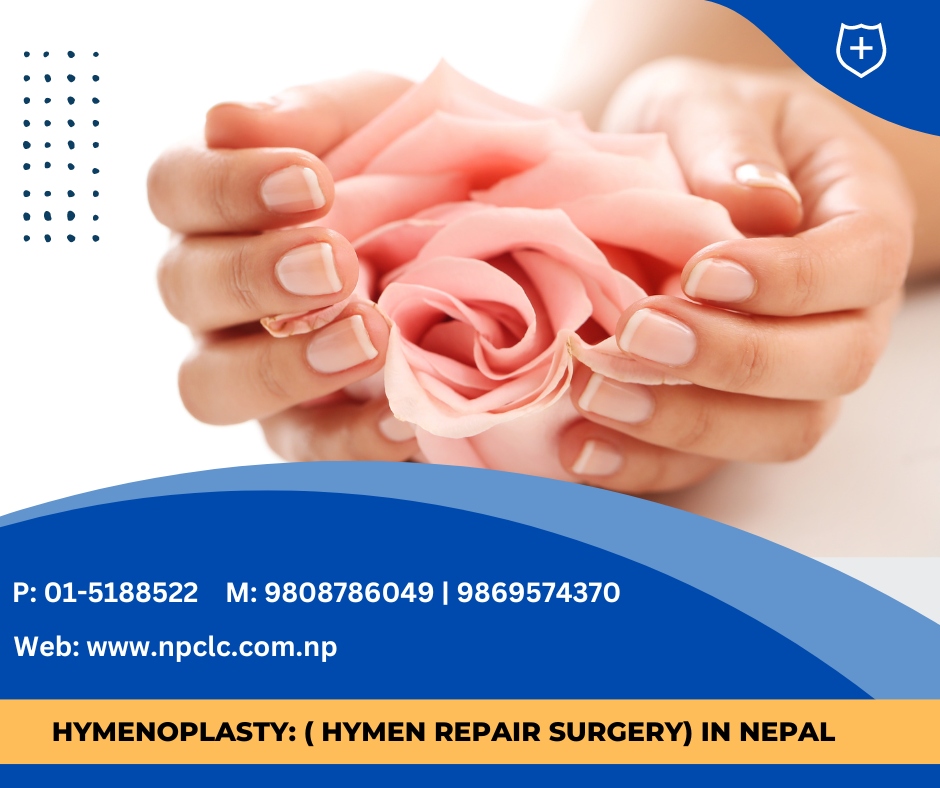 What is Hymen?
Hymen is a thin, pinkish membrane covering the vaginal entrance. It lies approximately half inch inside the vagina and is a part of vulva.
The function of Hymen is unknown but it is believed that it prevents pathogens from entering, but only until puberty.
How is Hymen Broken?
Hymen is usually ruptured during the first sexual experience, but strenuous activities such as riding a bicycle, swimming, gymnastics can also cause the rupture. Using sanitary products like tampons can also lead to hymen rupture. It is also possible for some people to be born without a hymen.
What is Hymenoplasty?
Hymenoplasty or generally known as Hymen repair is a cosmetic surgical procedure where hymen is repaired, restored or reconstructed. This surgical cosmetic procedure is usually requested by women for reasons like physical, psychological and/or cultural reasons. This surgical procedure where hymen is repaired, reconstructed or restored is known a hymenoplasty or revirginization.
Hymen repair (hymenoplasty) is the cosmetic repair, restoration, or construction of a woman's hymen, and is often requested by women for physical, psychological, or cultural reasons. Restoration of the hymen is also known as hymenoplasty or revirginization.
How is Hymen repaired/ restored/reconstructed?
Hymenoplasty is performed by a plastic and cosmetic surgeon under local or general anesthesia.
To obtain access to the vestibular mucosa, a transverse incision will be made behind the vaginal wall.
The hymen is repaired by reuniting the remaining torn tags. A self-dissolvable suture is used to join the broken hymen tags, which dissolves within 15-21 days after surgery.
Patients are advised to always clean the area and apply the prescribed ointment frequently. It is important for patients to maintain good hygiene after surgery and to wear loose-fitting clean clothes. Vaginal massage should not be done with irritants or scented products.
The hymenoplasty surgery includes three major techniques:
Hymen Stitching: A basic technique of hymenoplasty surgery is to sew up the broken hymens or sew up the remaining hymens. Sutures generally dissolve after a few days. Therefore, it is not necessary for the patient to return to the clinic for the sutures to be removed.
Anaesthesia will administered to reduce discomfort or pain during the procedure.
Approximately 30-40 minutes are needed for the restoration process.
Once the surgical procedure are completed and you feel fine ( about 10-15 minutes) you can go back home.
Within a few weeks, the patient can achieve full recovery.
Hymen Reconstruction: It is still possible to perform a hymenoplasty surgery if there is insufficient tissue to stitch the hymen together.
The hymen will be reconstructed with live tissue harvested from your body. Most often, the inner labia are the best-matched tissues.
The surgery can be performed as an outpatient procedure in just a few hours.
After a hymen reconstruction, a patient can resume normal life within 3-4 days.
However, sexual intercourse should be avoided for three months afterwards.
Following its recovery, it will function like a hymen and may include bleeding and sensations of discomfort when tearing.
Alloplant technique: If the body lacks tissues that can be used to reconstruct hymens, artificial methods can be employed.
Alloplants are biomaterials that have been chemically processed.
Often, it is used for transplantations. By inserting an alloplant instead of a hymen, the alloplant technique is applied in hymenoplasty surgery. As with a hymen, a tear-through experience will be provided.
This technique is used as the last option, in case no other options work.
What should you prevent after Hymenoplasty?
Every woman recovers differently after hymenoplasty surgery. In most cases, the healing process takes between 4 and 6 weeks. Hymens require time to heal, so it is very important to protect them after the hymenoplasty procedure.
It is important for patients to follow guidelines in order to have a painless and smooth recovery after their hymenoplasty surgery.
These dos and don'ts will help you with your post hymenoplasty surgery care:
Do's in Hymenoplasty
Keep the area clean and maintain hygiene.
Taking Pescribed medications on time.
Shower or bath should be taken after 2-3 days of hymenoplasty.
If the pain or swelling occurs use warm or cold compression for relief.
Don'ts in Hymenoplasty
Avoid smoking or drinking alcohol for one month after your hymenoplasty surgery
Avoid strenuous activities within the first 2-3 weeks after hymenoplasty surgery.
Avoid lifting heavy weights.
Do not engage in sexual activity for at least 6-8 weeks after hymenoplasty surgery
Avoid using tampons, and switch to hygiene pads for a minimum of 4-6 weeks after your hymenoplasty surgery
Avoid going to any public pool or saunas for at least 4-6 weeks after the surgery
Possible side effects or complication of Hymenoplasty ?
Swelling near the area.
Spot bleeding for few days after the surgical procedure.
Stitches may cause itchiness.
Might experience nausea or vomiting.
Blood clots may form in the area.
Might experience numbness in the region.
Infection can occur in the area ( especially if hygiene is not maintained )
Does Hymenoplasty make you tighter?
Hymenoplasty may help you become tighter. Through hymenoplasty, these muscles are effectively tightened,resulting in a small, intact space that is easier to stimulate sexually.
Can you walk after hymenoplasty?
Taking rest is essential after hymenoplasty surgery. Although you can walk after hymenoplasty surgery, it is usually recommended to minimize walking, exercising or any kind of heavy work.
How long does it take to recover from Hymenoplasty?
According to the amount of damage that needs to be repaired, the surgery usually takes 30 mins to one hour to complete.
There is a possibility that there will be some minor bleeding during the 48 to 72 hours after surgery. Approximately six weeks are required for full healing.
The reconstructed hymens are indistinguishable from natural hymens, as there will be no visible signs of surgery.
It takes 1 to 2 months for the stitches to dissolve completely, and for the scars become almost undetectable.
Is hymenoplasty a permanent treatment?
Surgery such as hymenoplasty should not be considered permanent. Your repaired hymen will last until it breaks again, usually after engaging in intercourse for the first time after your surgery. Hymens should remain intact for months following your operation unless they break from vigorous activities, vaginal insertion, or other unforeseen reasons, which are rare.