Permanent Hair removal in Nepal
---
Unwanted hair in our body parts have been a constant fight for us. Not only it create a problem in our life socially but the treatment for it like waxing, threading, plucking has been painful and repetitive. And most of the time it also creates other skin problems. Nepal have had its share of laser hair removal but the technology of those laser were outdated and it was painful, having a burnt sensation and not with satisfactory result.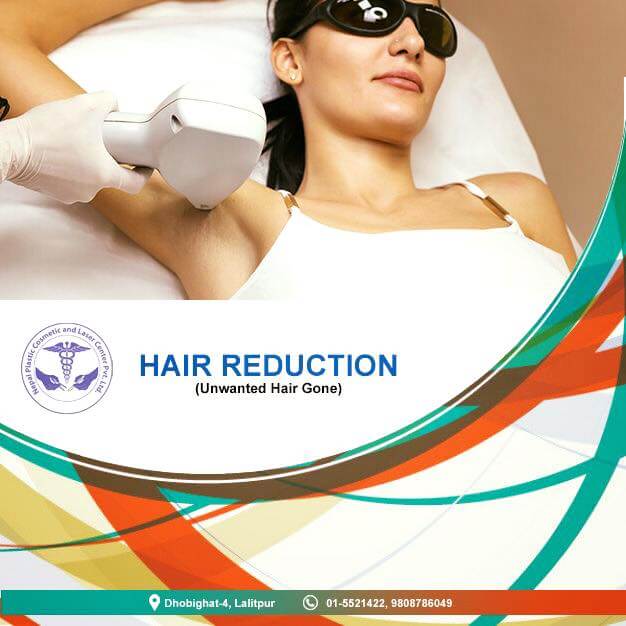 Permanent Hair Reduction
(Unwanted Face and Body Hair, Hormonal Hair, Ingrown Hairs, Folliculitis)
Laser hair removal results in permanent reduction of unwanted face and body hair. Both men and women who regularly wax or shave will benefit immensely from this procedure. All areas of the face and body can be treated, except the underside of the eyebrow.
Laser hair reduction works by thermally damaging hair follicles so that they are no longer able to grow hair. A laser produces a single wavelength of light which is able to penetrate the skin. The laser light is absorbed into the hair shaft and rapidly heats and damages both the follicle and the vessel that provides the follicle with oxygen and nutrients. Nepal Plastic Cosmetic and Laser Center uses the SHR ( Super Hair Removal) which is the Gold-Standard laser device for permanent hair reduction. This Laser  can safely and effectively treat clients with lighter skin types all the way through to dark skin types. Laser hair removal is not effective on grey, white or very blonde hair. It is also not suitable for very fine hair.
To obtain a permanent hair reduction of 90% or greater most people require between 4 – 8 treatments. This is because at any given time everyone has a mix of actively growing, transitioning, and resting hairs. Only actively growing hairs can be destroyed during a treatment. Follicles belonging to transitional and resting hairs will be unaffected and continue to produce hair. Subsequent treatments are therefore scheduled to be performed when these transitioning or resting hairs will be active (usually 4-6 weeks apart for most body areas). For optimum results it is important that the treatment schedule be adhered to.
Treatments are performed only on clean, dry and closely shaved skin. It is also extremely important to avoid any kind of tanning prior to and in-between treatments. Laser hair removal is extremely fast with large areas treated in a matter of minutes. Treatments are also relatively comfortable ,very tolerable and certainly much less painful than waxing.
What is Laser Hair Removal ?
Laser Hair Removal is a permanent process of unwanted hair removal from any body part using Laser machines. Laser machines emits light in a specific wavelength so that it will damage the hair follicles of the treated area. It is a continuous process by which you can get rid of unwanted hair from any body part of your choosing. Best part of Laser hair removal is it is painless and has no downtime.
Is all the laser same ?
There are many types of lasers and all of the lasers have different approach and all of the lasers have different outcome.
Which Laser do you have ?
We Have SHR ( Super Hair Reduction) technology laser. SHR is a revolutionary new method for permanent hair removal that is virtually pain & side effect free. In comparison to other slightly dated laser and IPL methods, SHR provides faster, safer and pain free hair reduction treatments for clients.
How long does it take to have a SHR ?
All lasers needs multiple sessions of treatment. Number of treatment required varies according to the type of hair, site of treatment. It also varies personally.  Generally it takes from 3 to 7 sessions.
Who is best candidate for SHR ?
Anyone who has unwanted hair in any part of the body and wants to get it removed permanently, then you are candidate for SHR.
Who should not undergo SHR ?
You should not get SHR treatment if :
 You have ongoing dermal conditions.

 You have open wound in treatment area.

 You are pregnant.
We at NPCLC have imported the latest technology for hair removal lasers. We have SHR ( Super Hair Removal). This latest laser not only makes your laser therapy pain free and pleasant it also needs shorter sessions as well as more superior results. SHR lasers are the best laser available in the market worldwide. We not only provide the best service there in for hair removal in Nepal but we also have the most affordable price for hair removal. 
NPCLC located at Dhobighat, Lalitpur, Kathmandu, Nepal not only offers all these procedures under one roof. NPCLC also has beat team of Plastic and Cosmetic surgeons and it also provides all the procedures in most affordable and competitive price.
These types of procedures must be properly evaluated and surgical treatment should only be done by registered plastic and cosmetic surgeon for the best possible outcome. We at Nepal Plastic Cosmetic and Laser Center ( NPCLC) provide the best counselling and surgical as well as non surgical treatment. We have the largest and best registered and qualified plastic and cosmetic surgeon of Nepal as well as multiple super speciality doctors and surgeons.

Our motto is Make Life Beautiful